This was an idea I pitched for about two years prior to approval to run. Just a simple series of closeups of a few of the astounding performers from Cirque du Soleil shows.
After so many photoshoots, video shoots, and creative projects with the company, I'd heard a plethora of stories from the talent on each set. Fascinating stories of their backgrounds and paths they took to get to Cirque. I thought it would be wonderful if these unique people could be photographed individually to try and capture the sense of awe and the humble feeling I got being in their presence. Who are these people? Where do they come from? So many paths, all leading to one destination.
Olympians, contortionists, acrobats, singers, dancers, and many, many more. Cirque du Soleil is truly a global company with performers and staff as diverse as the world itself. A rich cultural nexus of the most amazing people you'll ever get to stand up close to.
Thankfully, the editorial staff of The Sunday Magazine agreed and this project made the cover.
For such a straightforward concept, it was surprisingly difficult to capture all 8 people in the timeframe needed to meet the editorial publishing deadline. In order to get them in full costume and makeup, each performer had to be captured at different times and places. Because the shows were scattered across the Vegas strip and show start times varied.
This is one of my favorite shoot(s) of all time…
Just amazing people, doing amazing things.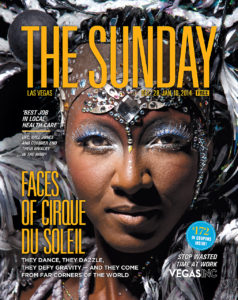 Where the idea started...